One of the most common causes of sewer line blockages is tree roots invading the pipe. They sneak in through joints or cracks in the pipe looking for water and nutrients. Over time they grow, debris gets caught in them, and this leads to blockages and even backflow.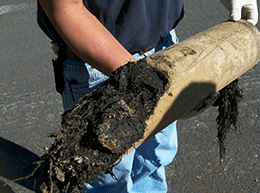 Safe for all plumbing. Root X foaming tree root killer saves time and money when it is used to treat tree root intrusion in sewer drain pipes, septic systems, sewer systems and storm drains. It is non-caustic, and does not contain standard root killing chemicals like metam sodium, copper sulphate or diquat dibromide. That means it is safe for your sewer lines, septic systems, and municipal wastewater treatment plants.
We love our trees, but not when their roots invade our sewer lines. If you suspect tree roots may be a problem in your sewer line, ask your Rustic Plumbing technician about RootX – it may be the perfect solution. We'll provide you with an effective and safe solution that will have the offending tree roots removed.
Rustic Plumbing can assist with your tree root intrusions:
Rootx Specialists
Root problems can be nasty and expensive! RootX is the cost-effective, environmentally safe solution to treating root intrusion problems in your pipes. Our plumbers are experienced and trained in all aspects of tree root removal from drains, sewers and pipes in Sydney, Newcastle and Central Coast.
Safe Tree Root Removal
RootX root killer is non-caustic and non-fumigating; it has no adverse effects on pipes or to other plants and trees in the surrounding area. Unlike other brands with harsh chemicals, RootX contains no copper sulfate and is completely safe on septic systems, pipes, and lines.
Preventative Treatment
The RootX will leave a barrier film on the walls of the pipe and prevent the growth of roots for up to 12 months. The replacement of a sewer line would cost much more than an annual treatment with RootX. Rustic Plumbing can assist with a preventative application of the RootX system.
No Dig Sewer Repairs
Some situations such as heavy root blockage will require mechanical removal of roots. Mechanical removal is an excellent short term solution. However, if the roots are cut and left untreated, they will eventually come back bigger and stronger. This process will eventually destroy a sewer line and require it to be excavated and replaced. RootX requires none of this. It is safe, simple, effective solution to pipeline root intrusion.
Sewer Diagnostics
With the use of fibre optic CCTV inspection technology, we'll find the exact location of your tree root intrusion. Even the result after the roots has been removed.
For your drains, sewers RootX® system application and tree root removal, contact and speak with the best in service, value and expertise in Sydney Metropolitan Area, Newcastle and Central Coast. Contact one of Rustic Plumbing's specialists today. We'd be happy to assess your sewer line blockage problem, and if it's a tree root issue we will likely recommend RootX.