Drains Plumbing
Is your sink, bath, shower or toilet draining slowly? You probably have a blocked drain. If more than one drain is blocking at the same time it may be more serious than a simple blockage. It may be your main sewer line! A blocked main sewer line can become expensive very quickly as it affects every drain in your home.
If it's your drains outside that aren't doing their job and the water just never seems to drain away when it rains, you likely have a blocked storm water drain. When it rains, a blocked storm water drain can be extremely frustrating. It can potentially result in water damage to your property and liability for run off damaging your neighbours property.
Signs of a Blocked Drain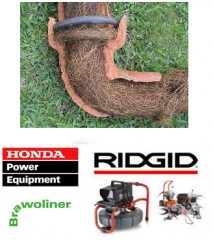 If you notice any of these signs contact a plumber immediately:
Slow drainage of sinks, bath, shower, toilets
Bad smell in house
Gurgling and bubbling water when you flush you toilet
Foreign objects in toilet bowl
Water level in toilet higher or lower than normal
Causes of a Blocked Drain
There are many causes of blocked drains:
Tree roots growing into pipes
Excessive toilet paper
Large quantities of hair in showers, sinks and baths
Ground movement
Aging or broken pipes
Disposing of paint, plaster or cement down the drain
Oil, fat and grease hardening when they are washed down the drain
Rustic Plumbing Solutions has a number of ways we treat blocked drains including the use of water jetters, hand augers and trenchless drain repair technology. We have a team of highly trained drains specialists on hand to help you out in any blocked drain emergency.
Do you know what's happening in your drains? If you have noticed any of the signs above or suspect you may have a problem, call us today on 1300 702 224.